JUNIORS EVENT:
The junior Tri is a non-competitive event involving three disciplines. A swim, bike and run leg.  The idea is for kids to be introduced to a tri in a fun, non, competitive environment where the only thing that matters is that they race safely, have fund and enjoy themselves. There is no weekly commitment. The kids nominate what distances they would like to do for each discipline. On registration they are given a race number for the season. An adult must sign and register the child. There are no minimum  or maximum ages but a rough guide is 4 to 11 years. Registration starts at 07:20am with the race commencing at 07:45am. The race is usually completed by 08:15am and concludes with a random draw prize.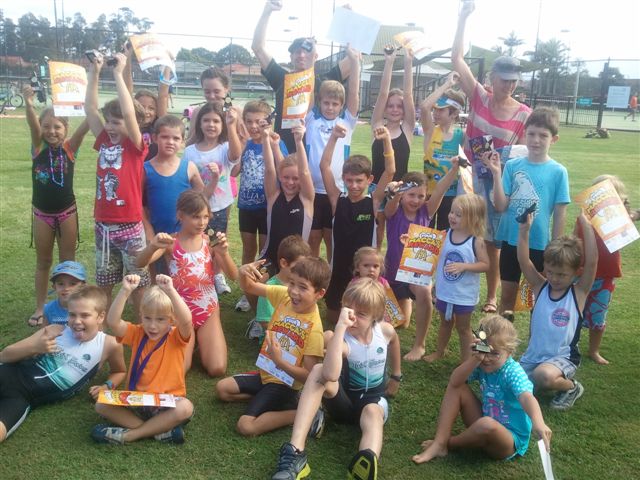 Cost each week is $4.00 for tri club members / under 6yrs and $6.00 for non-members.
Entry fee gives the child access to the Oasis pool before and after the race. A trophy is awarded at the end of the season. To be eligible for the trophy; the child must have attended at least 10 races (55%) and must be a member of the tri club, if they are over the age of 6.
Club membership is $13.20 per year ($11.oo for Twin Towns Services Club and $2.00 for the tri club), and a parent must be a member of Twin Towns Club for the child to become a member. Membership forms can be obtained from the kids registration desk, or from Twin Towns Services Club
TWIN TOWNS TRIATHLON CLUB OPERATES ON NSW TIME
SWIM
The swim leg is conducted in a 50 metre pool. Swim distance is around 1/4 lap to a maximum of 200metre (4 laps). As a guide, at a minimum the child needs to be able to swim UNASSISTED (dog paddle is fine) for 10 metres. 2 & 4 lap swimmers are encouraged to swim up the left side of the line.
BIKE
Bike minimum distance is 800 m to a maximum of 4.8km. 1 lap of the bike course is 800m. Children can do 1,2,3,4 or 6 laps. Small children still on training wheels have a separate short course. Bikes in any shape and form are fine. Shoes, bike helmet and shirt (rash shirt is fine) are to be worn during the bike and run legs. The bike leg is conducted on a service road free of motor vehicles.
RUN
Run is a minimum of 500m (1 lap) to a maximum of 1 km (2 laps)
Distances are not enforced and will often depend on what the child feels up to on the day.
We welcome any support and assistance from parents where and when they can, such as marshaling at given points on the course. It is essential to have enough marshals. Please make yourself known to Tracey Knight
Lets make triathlon fun and safe
In the pool
– watch out where you enter the pool so you don't jump on someone
– If you get tired come to the side of the pool and have a rest then keep
going if your can
On the Bike


– Make sure you have a shirt or singlet on
-You must wear shoes on the bike course
-Make sure your helmet fits properly and is done up before your get on the bike
-Don't get on your bike until you get to the road
-when riding keep to the left of the witches hat and be careful at the turn around point, they can be slippery due to loose gravel
-Get off your bike before your get to the transition area (grass)
-Put your bike back where it came from before you take your helmet off
On the Run


-Keep your shoes and shirt on for the run
-Watch out for the water dragons
-Keep to the left on the path near the lake
-Watch for bikes
Most important of all is to have fun!