Another hot and humid day with a strong northerly.  Everyone raced well and stayed safe in the hot conditions.  Jim Collins and Julie West both had flat tyres, and recovered well to finish.
Thank you Dave de Closely for being Julie's knight in shining armour and changing her tyre.
Terry Simpson received the Russ Evans Memorial Towel as point score leader in December. Congratulations Terry.  I have cross eyes and will probably get a nose bleed – I'm so tall.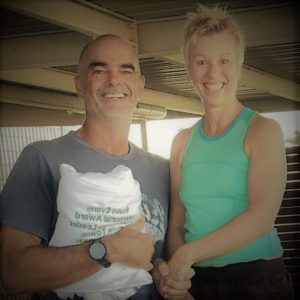 Thank you Rob Gillies and Jo Colja – marshalls this week.  Next weeks marshalls are Christian Andrews and Travis Coleman
The dismount point was shown to everyone again to ensure a fair race for everyone.
Random Draw prizes went to Ross Salmon, Des Gooda, Kent Holmes, Jane Edmiston, Peter Harrington and Michelle Jones.
Have a great week, stay safe and train well.