Congratulations to Marcel Van Kampen – 400 races achieved, well actually 401.  Doug wanted to point out that 397 have been early starts.  You know Dougie always into statistics.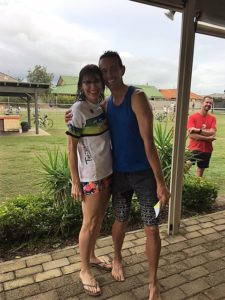 Wendy gave out two vouchers this morning called Lead by Example; first one to Dougie he has completed 669 races and is the founder of the club. The second to Rob Gillies for always helping out, donating to the juniors – both have always been great club members.
Congratulations to everyone who competed at the 1/2 ironman and Sprint Pottsville Endura last weekend, the conditions were really tough and with 16 competing from Twinnies – 9 acheived podium finishes.  Well done everyone.
Good luck to all competing at Coffs this weekend.
We need everyone to attend the presentation night and would ask you to purchase your tickets from Vicky next week.  With that in mind – can everyone compete on Club champs morning, even if you are not a winner, its still a great way to race your best time with the police manning the lights and a true triathlon start.
See you next week……