Cloudy with some early rain, then cleared to another hot humid morning.  65 competitors this morning.
Wendy congratulated everyone because Lights front and back have become the normal way now.  Everyone understands how important it is to be seen.
Wendy has spoken with Pat Salmon with regards to the Nev Salmon Perpetual shield.  Pat is very happy this will now reside back at the club and will be used to encourage the younger members of the club, following in Nev's passion to see the younger triathletes rewarded for hard work.  This year there will be an award for Male and Female it will be known as the Achievers award – this will also include a $75 voucher for each from Kingscliff cycles, donated by Pat Salmon and family.  There will be a Encourage Award with a $50 voucher from Kingscliff cycles also donated by Pat Salmon and family.  Everyone at Twin Towns Tri club is extremely happy and grateful for Pat's wonderful contribution to the club.  Nev was one of the earliest members of the club and President many times.
Congratulations to Andrew Costello he received his 150 races hat this morning.  Andrew has also donated money to the club to assist the intermediate triathletes and once again we are extremely grateful for his generous donation.
Michelle Jones received her 100 races hat this morning – congratulations and well done.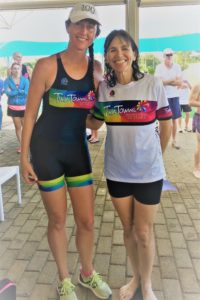 Random draw winners:- Gerard Robards, David Emery, Michelle Jones, Stu Crawford, Luke Holdom, Josie Davies.
Have a great week, see you next Saturday.