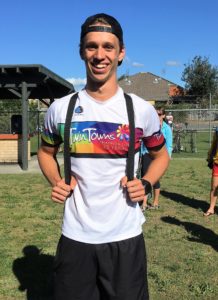 Travis Coleman returned from a successful race in Mexico arriving home this week and still managed to race this morning. He did Twin Towns Proud. In unbelievable heat he acheived an amazing result. Words from Travis about the race "Came out of the water 23rd in 19:26 for 1.5km, 57:54 bike working my way up to 9th place but the heat got the best of me on the run today coming in 23rd and was just glad to finish the race before getting taken to the medical tent and spending about an hour in there not knowing what was going on and a long time with serious convulsions, shoutout to the medical staff for keeping me alive. Looking forward to the season ahead. Once again well done Travis.
.
Congratulations to Matt Stanley 200 races today, its always a great acheivement and shows how good the club is that members just keep coming back. Well done Matt, looking forward to the next 200.
Dr. Bike
Discussed the best time to change gears to ensure you don't drop your chain, especially when you are half way up Botanical. Always change gears before your bike is under pressure. If this happens a lot go to your local bike shop and get them to do a check of the mechanics of the bike.
Dr. Bike also mentioned that a study has been done and accidents with bikes drop off dramatically if you have a good light and to use the light when you are out and its sunny and you think you are highly visual. You will increase the chances of being seen if you have a good light on the rear and front of your bike. Remember safety first, last and always.
Random Draw winners this week:
Terry Simpson
Wendy Sanders
Jenny Scaysbrook
Lisa Moore
Scott Styman
We have a couple of old uniform items selling for $50 each, please see Wendy.
I know the Tri Winter trip is not until next August, but have a look at the Caravan Park at Esk, great cabins and facilities and we could all ride part of the rail trail. Everyone can book their own accommodation and the club will supply the food. Everyone is welcome because it will be mountain bikes or hybrids only.
http://www.eskcaravanpark.com.au/index.html
See you next Saturday, remember your lights