There were 85 triathletes in near perfect conditions with North-west winds for our Saturday event. Again congrats to the members with working front & back rear lights. Any person with a bike without a front or rear or both non working light will have a 2 week suspension. This is part of our traffic management plan with the NSW Police and Tweed Shire Council for our event to continue. There is a dedicated and hard working committee to ensure there is a club for all.
A special treat for all participants was the photo opportunities with Peter Nelson and the use of a drone across Banora Pool! Stu Crawford was also able to take some stills. Thanks boys for your time and effort!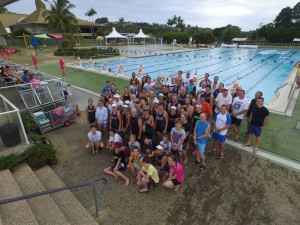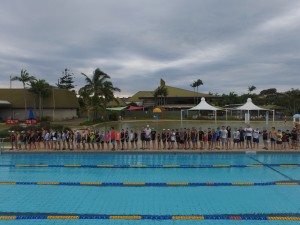 Special thanks to Vice President Val for a great weekend by all for our second social weekend away at Lennox Heads for the Australia Day weekend!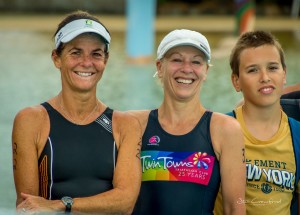 Our 100 race milestones Simon Bradbury and Danny Khazen were congratulated on their outstanding efforts by President Wendy. Congrats boys and both are improving their performance each season.
Jo Ward updated Tri Australia will have drafting in sprint races & no tri or flat bars allowed.
Dr Bike Paul highlighted tips for 'a spit of rain' for all:
*Roads after being dry wash oil onto road surface
*Brake before cornering
*Remember at all times…. What do I need to do? STAY SAFE!
*Bike componentry – front brake
*When brake pads wear lines disappear change ASAP
*Offset flat tyre put brake on to centre
*Bolt can become loose so check regularly
Updated NSW road rules for cars
1m distance at 60km/hour
1.5m over 60km for cyclists
All bikes should have a bell
Photo ID required – photocopy suitable
http://www.qld.gov.au/transport/safety/rules/other/cyclists/index.html?gclid=CPOYjcGNy8oCFcaVvQoda0UCCg
http://roadsafety.transport.nsw.gov.au/stayingsafe/bicyclists/cyclingrules.html
Point Score Top 10 as of Saturday 23rd January 2016 
1     Will Styman        353
2     Danny Khazen     352
3     Trevor Lawes       348
4     Gerard Robards    344
5     Scott Styman         337
6     Glenn Lance          327
7     Craig Broadhurst   324
8     Joe Molica             322
9     Vaughan Skelly     316
10   Jim Collins             311
The random draw winners are Liz Wall, Zoe Taylor-West, Talyn Hall, Jordan Birtwhistle, Vaughan Skelly, Roger Campbell, Deb Anderson, Lisa Moore & Niv Bergman
Extra special thanks to Mr Supercycle Roger for the water bottles donated to the intermediate triathletes!
Thank you to our Sponsors 
Coast Cyclery, South Tweed Supercycles, Cannibal Clothing, Kingscliff Cycles, Palm Beach Supercycles, Storm Cycles & Felt water bottle 
There are still uniforms for sale including:
Female –  Crop top medium, race back long leg Tri suit
Male Tri suits – medium & large.
Tri suits are subsidised for members & are reduced from $160 to $100. Also there is 1 cap & visors for sale @ $15.
Reminder to all
* Working lights front and back – Lights are compulsory and you will get a 2 week suspension if you do not have both front and back lights working when you are racing
* UNIFROMS MUST BE PAID FOR THIS WEEK!!!
* Members wishing to participate in Club Champs on the 19th March complete one marshalling duty prior to the Championships
* Breakfast will be on this Saturday after Tri…. Yummy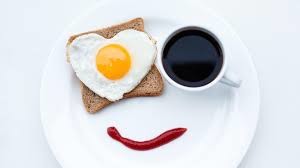 * Thank you to this week's Marshals – Marcel Van Kampen & Andrew Castello
Marshals for next week 30th January 2016 are
Woodland Round About – Guy Davoren
Amaroo/Fraser Intersection – Brad Alton
Pink Crossed – NA
Thanks everyone and don't forget to have FUN!

This race report was written by our beautiful president Wendy.