Over 70 triathletes participated in our final 2015 event with cooler conditions for all. Congrats to the majority of the field with WORKING FRONT & BACK LIGHTS! As part of our Traffic Management Plan it is important all intermediates & full event triathletes abide by this rule.
A popular annual event is Santa visiting the Juniors. It was an exciting day today with the arrival of Santa & Santa's helper, Rob for the juniors. Even with a knee injury Santa was a hit with all ages & gave gifts to the children. Special thanks Santa & Rob for your pre Xmas visit from the North Pole!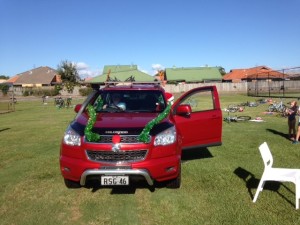 The weekly club point score event is a highly sought after title after a dedicated season attending the majority of events combined with consistent performance. 2015 has an extremely close field in the Top 10 and congrats for your efforts! It is an all male field of the young and old, experienced and newcomers and the fast and even faster! There have been a couple of significant point score changes and placings since our last event of the year. The last point score is on the 12th March so there are only 11 races to go for the top 3 2015/2016 club point score champions to be decided.
Point Score Top 10 as of Saturday 5th December 
1 Craig Broadhurst    294
2 Danny Khazen         287
3 Will Styman              285
4 Trevor Lawes           278
5 Joe Mollica               277
6 Gerard Robards       271
7 Glenn Lance             264
8 Guy Etherell             261
9 Scott Styman           256
10 Jim Collins             249
Thank you to our Sponsors 
Coast Cyclery, South Tweed Supercycles, Cannibal Clothing, Kingscliff Cycles, Palm Beach Supercycles, Storm Cycles & Felt water bottle 
Reminder to all
* Working lights front and back
* With the last event of the year it is important all members wishing to participate in Club Champs on the 19th March complete one marshalling duty prior to the Championships
* Thank you to this week's Marshals Jo Ward, Ross Salmon & Hollie Robards
Dr Bike Paul – Dr Bike did encourage all members to visit your local bike shops for purchases rather than online to support our local community and the great job they do beyond the bike shop eg group rides & helping the homeless.
Marshals for next week 2nd January 2016 are
Woodland Round About – Zane Simpson
Amaroo/Fraser Intersection – Scott Cummings
Due to circumstances beyond our control there will be No Tri on the 26th December (Boxing Day). Banora pool will be super chlorinated. Further details this week for a social tri alternative for the super keen!
The Tri Club Committee extends best wishes for a merry Xmas and Happy New Year to all members and families and 2015 visitors.
Thanks everyone and don't forget to have FUN!

This race report has been written by Wendy Wise.