The first race of the season went very smoothly with 63 competitors turning up. It was 17 degrees with a wind chill that felt like 9 degrees. This will be the first of 2 qualifying races for everyone who finished.
Thank you to all the extra helpers that give their time to the club and help out on a Saturday morning. Make sure you get on and subscribe so we can get information out to you.
Please don't forget to shower after the race if you are wanting to go back into the pool.
Dr Bike reminded everyone to make sure your front and rear lights are on and working and recommended that the USB type are best. Dr Bike is also willing to take anyone around the bike course to show you any danger areas or just to simply answer any questions you may have. Paul can be contacted through the Twin Towns Facebook page or through the enquires page on the website.
Des Gooda from DGC welcomed everyone back for a safe and fun season ahead. Due to the new McDonald's opening he informed us to be aware that the roads are going to become busier. In the off season Des was lucky enough to attend the AIS to do a Performance Coaching Program so if you have any questions please don't hesitate to chat with him. Des wanted to make everyone aware of the drug testing that is now becoming more relevant in the outside triathlons. Many substances that are over the counter products can still be a banned substance. You can check all of this out at www.wada-ama.org or www.asada.gov.au.
Please don't forget that this Saturday will be the last day to order the new Tri Club Uniform so please bring your money on Saturday 3rd October. Club president Wendy will be placing the order early next week.
MOUSE TURNS 70!!!
Trevor "Mouse" Lawes turned 70 last week and we had a little celebration after the race on Saturday.
Mouse has been part of the Twin Towns Tri Club for 24 years and not only puts
our signs out each Saturday but is just an awesome young man!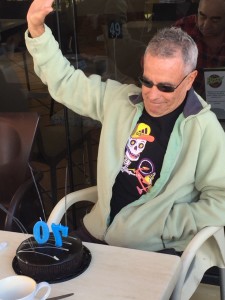 HAPPY BIRTHDAY MOUSE!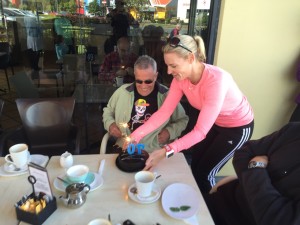 And last but not least there was one DNF on Saturday due to passing out. Yes this was me and once again I hit the deck due to low blood sugar and trying a bit too hard in the swim for the first race back. In transition after the swim I managed to fall into my bike with my hip and thigh than ever so elegantly smash my head into the back wheel of the bike next to me. Thank goodness Gerard, Darren and Mark came to my rescue when I woke up looking into Gerards face thinking what is going on? My first thought was damn I'm going to be DNF'd by Dougie on my first race! I am a bit sore and bruised but I am recovering nicely. Once again a big thank you to Gerard, Darren and Mark for looking after me.
Marshals for next week 3rd October are
Woodland Round About – Matt Stanley
Amaroo/Fraser Intersection – Yochai Bergmag