Race  Report 13 December 2014
It was another dry race for Twinnies, with over 70 members having a go. We are fortunate this season that there are no public holidays to disrupt our Tri Season. We (the Juniors)had the pleasure of a visit from the Big Red Fat Fella. I missed his visit but I hope he didn't repeat his eye pad joke from last year. Hope Santa enjoys his cruise on the high seas. Parents of Juniors- please note that the race this coming Saturday will be last for this year, resuming on 10th January 2015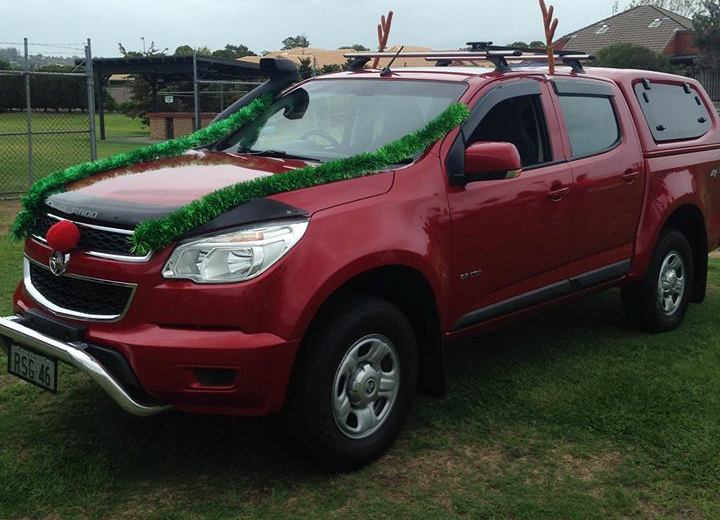 A belated personation was made today to John Warren, one of the few remaining original starting  group. Today he received a hand crafted Twin Towns Tri Club 500 Race Towel with a dummy attached?? Word is he kept on pestering the committee for his towel that he was due last season!
Next week is our Joe Kelly Memorial Teams event,  Registration by 0600 – 0615 nsw time SHOTGUN START – NO HANDICAPS where everyone will select a number and find two other corresponding numbers which will determine your team, you'll them choice who will do each leg. A request to race as a family team was suggested by Pete Nelson.  There are quite a few families that compete at Twinnies each week and as long as you are IMMEDIATE FAMILY you will be permitted to race as a team. The Course is still 10 laps in the pool, 3 laps around Darlington on the bike and the run course will be the normal course and may extend about an extra 200 metres. Following the race there will be a hot breakfast and a large amount of random draw prizes. Roy Curtis's The Good Guys have donated some prizes as well- thanks Tony Latter and everyone else who has donated. All participants will receive 35 club points
We have new Twinnies hats available for sale @$15 each, those of you who ordered new Twinnies Tri Suits, I have it on good advice from Di Lance that they should be here before Chrissy- fingers crossed.
Random Draw Prize Winners
Darren Jones, Richard Mourant, Jenny Scaysbrook, Danny Khazen, Hollie Robards and Peter McFie
Season Point Score as at 6 December 2014
| | | |
| --- | --- | --- |
| 1 | Terry Simpson | 276 |
| 2 | Will Styman | 275 |
| 3 | Warren Copping | 270 |
| 4 | Phil Salter | 268 |
| 5 | Rob Gillies | 263 |
| 6 | Kerrie Turney | 253 |
| 7 | Danny Khazen | 248 |
| 8 | Gerard Robards | 240 |
| 9 | Sera Graham | 240 |
| 10 | Peter Harrington | 237 |
MARSHALLS
There will be no marshalls required for the Joe Kelly Memorial Teams event. Marshalls for 20 December are
Fraser/Amaroo : Pete Nelson
Pink X's : Damian Parsons
Woodlands Drive RAB: Kent Holmes
Doctor Bike
Paul Woodger today spoke and demonstrated the art of emergency braking- using a lower body position moving your body back and pulling on both front and rear brakes. Ensuring that you keep you front wheel straight, this is most important if you happened to experience a front tyre blow out
Stu Crawford
Twin Towns Triathlon Club