Race Report 28 December 2013
Traditional formalities were set aside today at Twinnies for the running of our second teams challenge. We had 26 teams in total and after the met and greet it was down to strategising. Who was the best in each team.
The course today was announced by former school master Mr Kevin 'the rock'  Bannerman with his typical powerful voice, as 14 laps of the pool, 3 laps of Darlington Drive and the run leg was extended to the driveway of Banora Green an overall distance 5.17km. There was plenty of sledging and although this was a friendly event meeting some of the other members in the club, there was strong competition. Jenny Curnow was quietly surprised that she beat her daughter Freyja out of the water. Then I used Sonny Warner as a pacer on the run leg, and for a young fella he was running well for a while, but he left nothing in the tank and was easily passed and left behind.
There were a number of entries for best dressed and Ginny Jones came up trumps, well done.
The post celebrations were held amid the healthy breakfast hosted by DGC –Des Gooda Coaching, if you are after some extra tuition Des is the man to see, he might also give you one of his brand new tri suits, just ask him!
Milestones: Congratulations to Guy Davoren the winner of the Russ Evans Memorial Towel for the monthly handicap winner.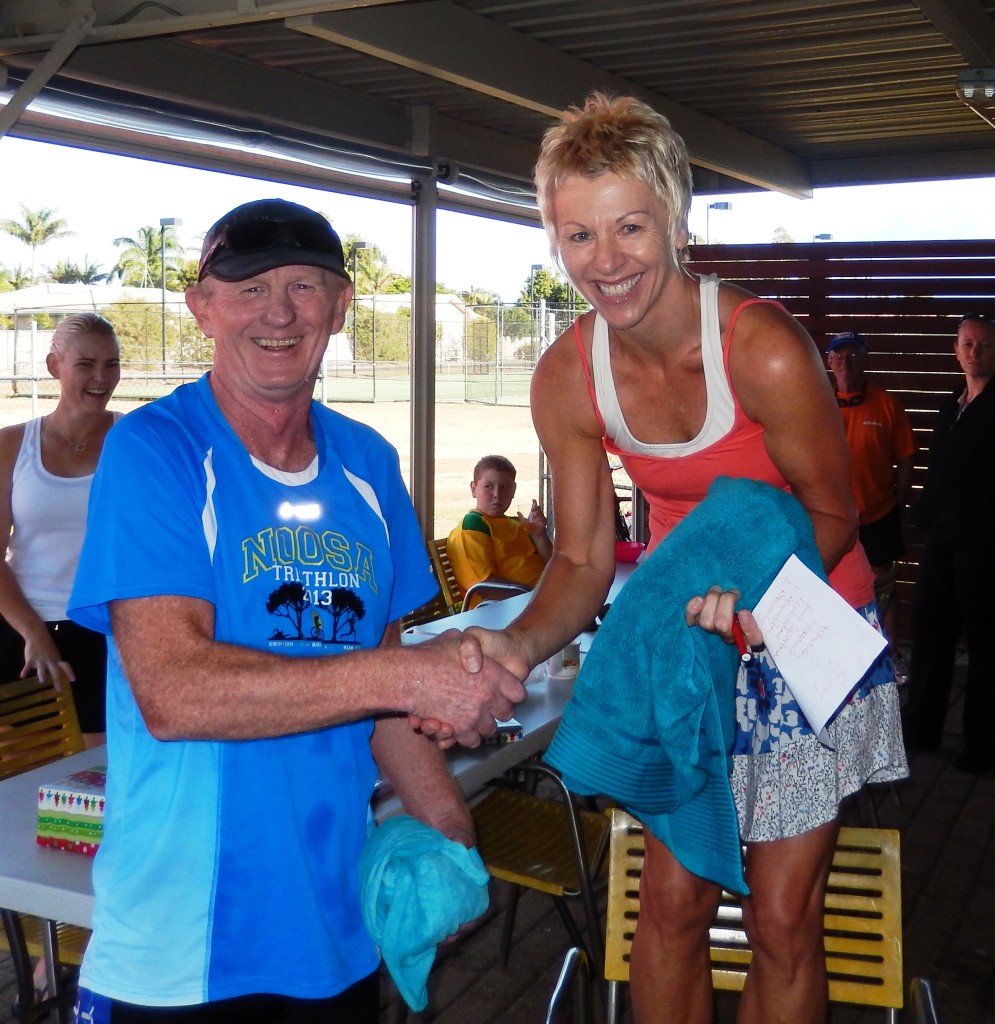 Marshalls for next week
Fraser/Amaroo Intersection: Jo Ward
Pink X's : Jenny Curnow
Ash Roundabout: Jinny Jones
Woodlands Drive Roundabout: Ian Curnow
We still have vacancies on the Marshalling Roster, remember if you wish to compete in the Club Championships you or depending on your age have your parent stand in as a Marshall. This link does not allow you to add your name, to nominate please go to the Contact Us Page and nominate your date.
Although todays event was not classed as a normal race, there were 35 points up for everyone that attended, this should see some significant movement in the top of the table point next week.
Points after Race 15
| | | |
| --- | --- | --- |
| 1 | Terry Simpson | 322 |
| 2 | Guy Davoren | 298 |
| 3 | Ryan Stoddart | 289 |
| 4 | Vaughan Skelly | 278 |
| 5 | Will Styman | 276 |
| 6 | Scott Styman | 267 |
| 7 | Warren Copping | 267 |
| 8 | Vicki Lawes | 266 |
| 9 | Lewis Saunders | 259 |
| 10 | Peter Serone | 258 |
Back to normal racing next week, the festivities continue this week leading up to NYE celebrations, stay safe and train hard.
Stu Crawford
Twin Towns Triathlon Club