Race 26 of 26
Today was the day for everyone at Twinnies to go their hardest, the rain held off, dry track, little wind and no excuses to getting caught at the red lights. In all we had 71 starters today racing in both the non-competitive and the ladies and mens competitive race.
With Paul Woodger throwing out his challenge to complete the course in 30 mins or less- he donned an aero helmet, fitted pink streamers to the handle bars, the basket was discarded in favour of a front light. Did he achieve his goal …. Yes in 26.05 minutes and raised  $244 towards the Conquer Cancer Ride- thanks everyone for donating.
Some observations from today – three competitors were seen entering transition (T2) unclipping their helmet before racking their bike – a really big no no.
Another observation from someone in the field who has allegedly seen the inside of a penalty box at Mooloolaba for drafting – so he has some experience- two groups were scene riding along Leisure Drive, one could have assumed they were on a group ride they were that close- really disappointing. These people know the rules, todays race was the one where you should be going you're hardest – fairly, not drafting. The club pays for the police to control the intersections with traffic lights, so that the your race is not impeded.We might/should have draft busters out their each week ensuring those that fail to follow the rules are penalised.
A couple of trophies were handed out for those that can't be at the Presentation tonight;
The age category winners and fast split times will be updated following tonight's presentation .
For those looking to fill that early Saturday morning slot, many Twinnies members meet in the car park opposite McDonalds, Coolangatta each Saturday morning at 06:30am NSW time for a run to Bilinga Surf Club and back, then there's optional swim across the bay from Greenmount to Cooly followed by coffee.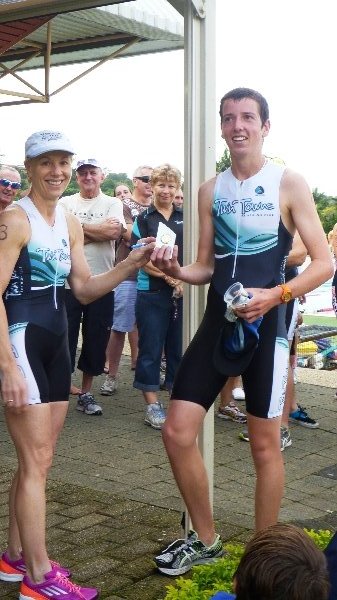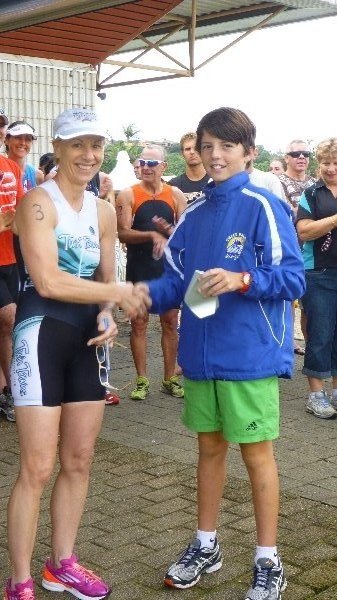 Thanks everyone for a good year, the competitors both old and young, the parents of our junior members, our Volunteers and a special thankyou to our Sponsors. And Jayde Aleman who takes absolutely fantastic photos. Give yourselves a big pat on the back. You are all part of a big happy fitness family, who are quick to support those that need it. And don't forget the sledging, it's all part of the fun and friendship.
Stu Crawford