Race 20 of 26
Severe weather warnings in force for Northern NSW and SE Queensland, evacuation centres opened, helicopters sent from Sydney in preparation for evacuations, Tweed Valley Triathletes cancelled their race, but still 54 die hard Twinnies members  turned out to go through the motions, and then how about those juniors that dragged their parents down so that they could race in miserable conditions. Three cheers to everybody OZZIE OZZIE OZZiE  OY OY OY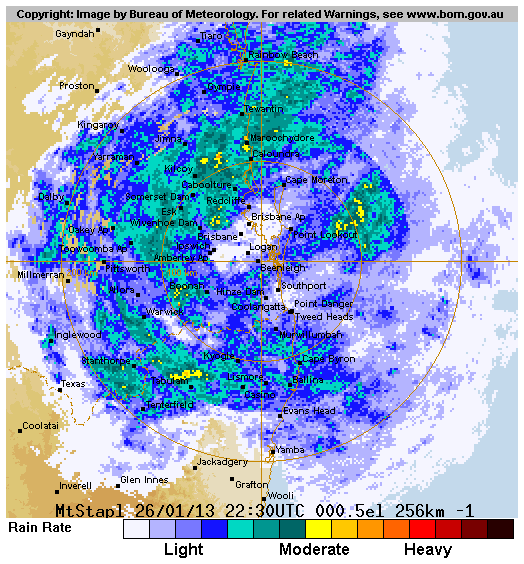 Fact: "Aussie Aussie Aussie, Oi Oi Oi" is a cheer or chant often performed at Australian sport events. It is a variation of the Oggy Oggy Oggy chant used by both association football and rugby unionfans in Great Britain from the 1970s onwards. It is usually performed by a crowd uniting to support a sports team or athlete. The alternate is for an individual to chant the line "Aussie, Aussie Aussie!" and the crowd to respond with "Oi! Oi! Oi!". Source: Wikipedia, the free encyclopedia
But it was Australia Day, a day we hear from Sam Kekovich promoting lamb and Dick  Smith encouraging us to support ozzie farmers and buy Australian products.  It is a wide brown contrasting land we live in, with bush fires in one corner, tornadoes and flooding rain in another. Today we celebrated with a healthy breakfast once again put together by the girls, ramping it up a bit with banana mini pancakes, muesli yoghurt fruit cups and the coffee supplied by Rory Curtis's The Good Guys. Tony Latter and Angela put together a great show  demonstrating and providing coffee from the Mapp Coffee machine and juicer. Head down to The Good Guys and get a great special on the coffee machine this weekend.
As reported last week, Twinnies is a family friendly group of people, for the past couple of years we have had the pleasure of Joe and Laura Kelly visiting from Canadian. Their visa is due to expire and they will be leaving us returning to Canada. To help remind them of their stay here, the lovely smiling lady Di Lance from Cannabil Clothing presented they with an Australian Bike jersey.
Milestones:
John Warren completed his 500th race, having represented the club in numerous races in Australia as well as racing for Australia in a number of overseas Olympic distance events.
Wendy Wise completed her 400th race, a past president and avid supporter of Twinnies and loves to welcome every new person, "I haven't met you yet, I'm Wendy Wise…" She also has competed at events around the country and represented Australia a couple of years ago on the Gold Coast.
Random Draw Winners
Warren Copping – Palm Beach Supercycles Light, Peter Stowe – South Tweed Cycles, Mr Kevin Bannerman –Cannabil Clothing, Ryan Stoddart – Kingscliff Cycles, Doug Neil- Palm Beach Supercycles, Kay Ball – Storm Cycles
Marshalls for 2nd February
Darlington Dr/Leisure Dr Roundabout – Shelly Roy
Fraser Dr/Amaroo Dr Intersection – Dave Proudfoot
It was refreshing to see that at the conclusion of the weekly presentation, one normally quite and reserved member found it necessary to publicly apologise for his uncharacteristic behaviour last week. Apology accepted
Stu Crawford
Twin Towns Triathlon Club